How Does a Ratchet Spanner Work?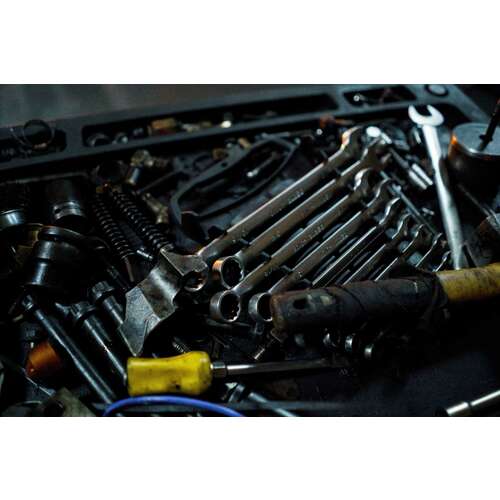 The Value of a Ratchet Spanner
Do we need another type of wrench? How is a ratchet spanner different? Today we're going to discover why the ratchet spanner is every mechanic's favourite tool.
What Is a Ratchet Spanner Used For?
A ratcheting spanner or ratcheting wrench works similarly to a socket wrench – it consists of ratcheting pawls that lets it spin in one direction and turn the bolt in the other. It's a simple tool that enables you to turn nuts and bolts more quickly than a regular wrench. But there's lots more to love about ratchet spanners.
Are Ratchet Spanners Good?
At Refast, we love our ratchet spanners for plenty of great reasons.
A Slimmer Profile to Fit in Tight Spaces
When you stick a socket on a wrench, you might only have a few centimetres of clearance to get the socket on your bolt. That's fine when you have enough space to easily work and manoeuvre around.
However, when you're working a complex bit of machinery or on an awkward part of the job, a socket wrench can be too bulky for a tight space. That's when a ratcheting wrench is perfect. The slimmer profile can slide in and you can do the job quickly so you can get onto your next task.
A Mechanism that Eliminates the Need to Reposition
Using a standard wrench in a small closed space may mean you don't have enough clearance to flip and turn the wrench easily. Thankfully, with a ratcheting spanner, there's no need to. Because of the ratcheting, there's no need for the spanner to come off of the nut for repositioning — you can just keep working away.
An Increase in Flexibility
Apart from its slim design, you can get more versatility with a ratcheting spanner with a flexible head. The flexible head allows you to approach the fastener from different angles and can be helpful when trying to reach tight spaces.
How to Use a Ratchet Spanner?
Ratchet spanners are simple to use but can take a bit of practice when you first start out.
Step 1: Pick Your Tool
From your ratchet spanner set, choose the best spanner for the job. Looking at the size of the nut you'll be working with, you can find the right ratchet ring spanner size by its measurement on the side. If you don't know which size to use, you can go ahead and try. If the fit is too loose, try a smaller one. You should avoid turning a bolt with a socket too large though, as you can strip the bolt and make it impossible to turn.
Step 2: Secure the Socket
Attach the socket to the handle by simply sliding the socket's hole onto the handle's knob. You should hear a click once it's properly in place.
Step 3
Opposite where you attached the socket, you'll find the switch that either loosens or tightens the ratcheting spanner. You can shift the switch to the right for tightening and the left for loosening.
Step 4
Place the socket on the nut. Use your ratcheting spanner as you would use a socket wrench, except you don't have to lift the spanner when you run out of space to turn. Instead, twist it back in the opposite direction and repeat.
No Tool Kit Is Complete Without a Ratchet Spanner
A ratcheting wrench's hybrid socket and combination wrench design allows for a ratcheting action when sockets are too bulky. This provides the versatility you'll need when dealing with small spaces. Need a ratcheting spanner for your tool collection? Find one or a full ratchet spanner set at Refast now!