Why Leatherman Tools Are Worth It & You Need to Always Have One On You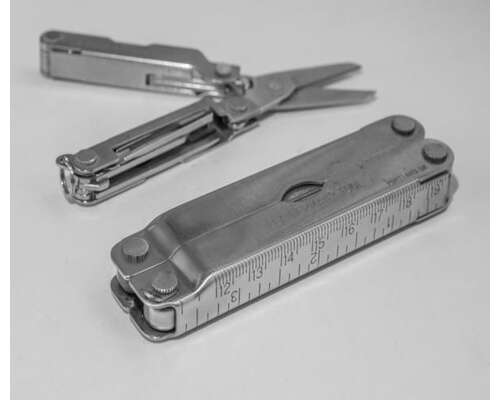 The idea of combining several different tools in a single unit is nothing revolutionary. The concept of a multitool dates back to the days of the Roman Empire. However, it was not till WWII that the multitool began its meteoric rise. And it was the advent of Victorinox's famous 'Swiss Army Knife' that contributed to the multitool's explosion in popularity.
The World of the Multitool
For decades now, a comprehensive pocket-sized multitool has become an essential item amongst soldiers, outdoor enthusiasts and artisans across the world, thanks to its versatility and functionality. When you look at the multitool market today, we can see that engineers, designers and metalworkers have again started to see value in the timeless tool and sought new ways to improve its functionality.
You'll find that these days multitools are readily available. In fact, the market is saturated with a whole host of options. With that being said though, not all multitools are made equal, which is why it is worth doing your research and investing in a reputable brand, such as Leatherman, if you want a multitool that will get you out of a pickle when you need it most.
Are Leatherman Tools Worth It?
Leatherman is one of the biggest names in multitools and for good reason. These powerful and specially engineered tools deliver on their promises. Here's why we love Leatherman.
Adaptable
The most obvious motivation for investing in a good-quality multitool is the ability to offer several simple and effective solutions to everyday issues. Most models will boast a variety of functions, and if you are creative, you'll find innovative ways to use your tool, such as opening a tin of beans or moving pots and pans about on a hot campfire. Choosing a multitool optimised for strength, such as the Leatherman Rebar multitool, will allow you to tackle those tougher tasks.
That's not even to mention that Leatherman has a range of multitools designed to suit different purposes, from the Leatherman Surge to the Leatherman Free. You can easily find a Leatherman that meets your needs.
Convenient
Much of the appeal behind a multitool is its convenience. For instance, if you stumble across a loose screw or a bottle top that needs opening, pulling a Leatherman out of your pocket is far easier than searching through your tool cupboard or traipsing off into the kitchen.
Efficient
People often talk themselves out of not investing in a multitool because they can't see an instance where they'd need a ruler, a hex driver or a pry bar. However, once you have a Leatherman on your person, you'll be glad at the various features it contains. A multitool is by far the most efficient way of carrying several tools in a compact, mobile format. Take, for instance, the Leatherman Surge multitool, which contains a pair of pliers, a blade exchanger, replaceable wire cutters and pliers, all of which can easily be locked into place. Trying to carry all of those tools separately would be highly impractical and inefficient!
Handy in an Emergency
Life is unpredictable, and you can find yourself in trouble when you least expect it. The best we can do is prepare for the worst and hope for the best. A good way of doing this is by investing in a good-quality Leatherman multitool. Imagine your key snaps in your door, locking yourself out of the house; most people will have to call out a locksmith, but if you have a Leatherman Rebar to hand, you can use the pliers to retrieve the snapped key and get inside.
Will Last You a Lifetime
Top of the range multitools don't come cheap, but they are an investment that can last you a lifetime. For instance, the Leatherman Surge Multitool is incredibly durable and will stand the test of time. Engineered from stainless steel like most Leatherman multitools, the Surge is easy to clean and won't be susceptible to rust as many lower-end products might be.
Which Leatherman Is Best?
Now that we've established the value of multitools and the potential benefits that carrying one can have, we can certainly say that Leatherman tools are well worth the investment.
But now it's about deciding which Leatherman is right for you. At the end of the day, this is a personal choice, and no matter which Leatherman tool you go for, quality, reliability and satisfaction are guaranteed. However, we have a few tips.
Start by thinking about which functions and tools you think would be most useful to you. From mini tools like the Leatherman Sidekick to the real powerhouses like the Leatherman Surge and Leatherman Rebar, a range of different models are available, each with their own unique features.
Be Prepared With Leatherman
So what are you waiting for? Visit Refast for the best deals on Leatherman multitools and see first-hand how a multitool will transform your life.
---