Why the World Would End Without Retractable Reels?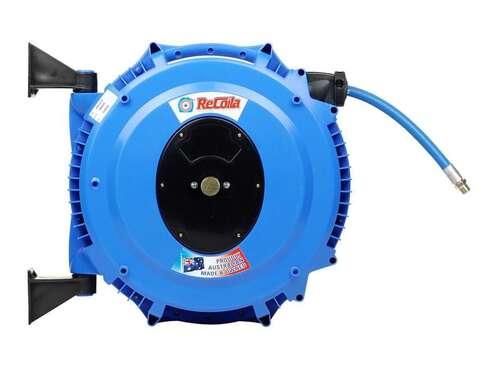 It may sound like hyperbole, but, with our years of industry experience, we've seen how retractable hoses and reels have revolutionised work across the board. And no one does it better than ReCoila.
If You Can Dream It, There's a Reel for It
Just about any workshop or manufacturing hub can find a ReCoila retractable reel for their purpose. From everyday applications, like electrical cords, safety barriers and even hot water, right to specialist uses like breathing air, potable water and argon gas, there's practically a retractable reel for everything!
How Do Retractable Hose Reels Work to Make the World Go Round?
If you were to snap your fingers and cast retractable reels out of existence, you'd be sending three massive benefits out the window.
Dependable Durability
No matter your field or industry, or what you're looking to get out of your retracting hose reel, you want a piece of kit you can rely on. Thankfully, with ReCoila, that's exactly what you're getting. All ReCoila retractable reel hoses are made for tough, regular use.
Plus, depending on your application, you can even get extra reinforcement with corrosion-resistant stainless steel, like the Gen III Pressure Wash Water Hose Reel. This way, you can be sure that your retractable hose can handle the job.
And that's just the hose itself. When you factor in the reel, you really get your money's worth out of ReCoila. Having an easy and safe way to store your hose means it will be out of harm's way, helping keep it in top-notch shape for when you need it. Similarly, being able to lock the hose in place, thereby guaranteeing the exact right length of hose to get the job done without risking kinks and knots, means you aren't placing undue pressure on the hose.
Clever Convenience
On that note, having the perfect amount of hose or line locked into place does wonders for getting any job completed quickly and efficiently. You're no longer having to flip extra hose around to get it in just the right spot to get your job done or deal with unnecessary losses of pressure.
Then, when it comes time to pack up, it's a cinch to store your hose up and away. Plus, you know you won't need to have to fight tangles or knots the next time you need it.
And, thanks to ReCoila, this awesome convenience is even better, as it can be achieved in just about any industry for any application! Have on-hand compressed air or water for any number of workshop uses or get a super convenient retractable electrical cord to deliver power to where you need it.
Super Simple Safety
Not to bang on about it, but one of the key benefits of a retractable hose is that ability to safely and easily store your hose away. But it's not just for the hose's good! Keeping your hose on a retracting reel means you're eliminating a prime trip hazard from your work environment, keeping everyone safer.
Plus, with correct placement of the retractable reel and the perfect length of hose, you're even able to improve your at-work ergonomics. No more stretching or bending over to get the angle just right because the hose is too short or long.
And when it comes to ReCoila, safety's the name of the game with their range of retractable safety barriers. With retractable, brightly coloured webbing, like the Gen III Retractable Safety Barrier Reel, you can easily set up a safety perimeter as needed. This is perfect for spaces where you need to regularly restrict access but don't want to limit vision and the movement of air and light in the space.
The Industry Experience to Never Let You Down
With over 30 years of experience, ReCoila are the Australian-owned retractable reel experts. As industry aficionados ourselves, we're proud to stock a selection of ReCoila products to deliver you that top-quality experience you know to expect from Refast.
When you get your hands on a ReCoila retractable hose reel, you'll never want to go back, and you'll understand why they help make our world go round.
---